First Fridays are BACK!
SEPTEMBER 3 || OCTOBER 1
The 1st First Friday Street Faire will return September 3rd. Rediscover the NEW DoMo District. Connect with downtown businesses, chefs and artists.
DoMo First Fridays, presented by Doctors Medical Center, is like an umbrella for any community members who wish to activate space with positivity, creativity and culture. From pop-up dance workshops to international graffiti art mural festivals, goodness is found at First Fridays in the DoMo District.
Interested in becoming a vendor?  Click here.
---
Brown Bag Summer Concert Series 2021
Gallo Center for The Arts Presents: The Brown Bag Summer Concert Series at the Modesto Rotary Music Garden! Stop by Friday afternoon for these FREE lunchtime concerts featuring six talented musical acts. Bring a blanket and your lunch. 12 pm-1 pm, Gallo Center Music Garden, 1000 I St.
---
Art Walk Has Returned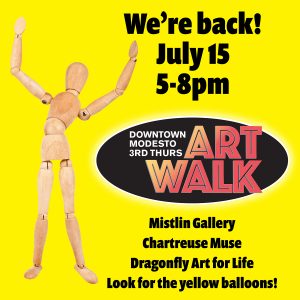 The Downtown Modesto Art Walk is a year round event held on the third Thursday of each month from 5pm-8pm. The Art Walk is a FREE casual event featuring a diverse range of artwork. You will have the opportunity to listen to local musicians, enjoy food and beverage from one of your favorite downtown restaurants as well as viewing artwork for purchase at local art galleries and shops.
Participating businesses/galleries will be marked with yellow balloons outside (see
map
).
---
Graffiti Summer is BACK!
Graffiti Summer, traditionally held in June, will feature many fun events  including car shows and a parade. Events begin August 15, 2021.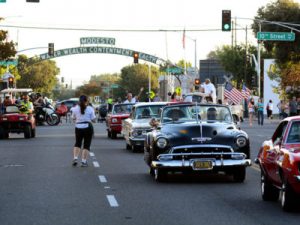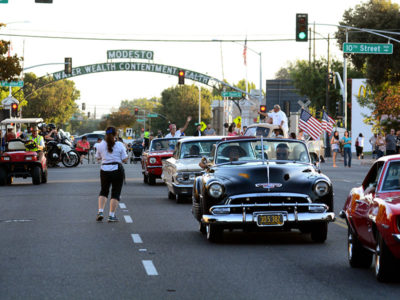 Graffiti Summer celebrates the car culture and history that Modesto native George Lucas brought to life in his biopic American Graffiti. For over 20 years the City of Modesto has cleared the streets of downtown and paraded over 1,200 classic cars to tens of thousands of spectators to kick off weekend events for the American Graffiti Festival and Car Show presented by the Kiwanis Club of North Modesto. This is the only official American Graffiti car show in the nation and the parade will take place Friday night, August 20th in downtown Modesto with new protocols for personal space in consideration of spectators.
Check back regularly for new or updated events.
---
Downtown Dining Information
For your convenience, we are providing the following link with dining options for downtown Modesto eateries.
Please be sure to call first since posted information is subject to change.
Please remember that you may also support these local businesses by using your RAD Card, purchasing a gift card and/or gift certificate.
---