---
Lunchtime Brown Bag Concert July 8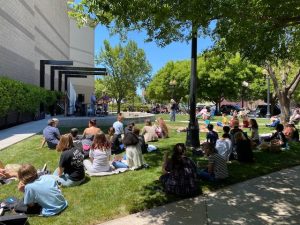 It's back thanks to popular demand! Launched in 2021, the Gallo Center's Brown Bag Concert Series at the outdoor Modesto Rotary Music Garden is a series of free lunchtime concerts by some of the region's top musical artists. Pack a lunch, bring a blanket, and have a great time in this perfect setting for concerts in the heart of downtown Modesto!
GALLO CENTER FOR THE ARTS
1000 I STREET, DOWNTOWN MODESTO
All Concerts are FREE to the public* and weather permitting.
JULY
8             JOSH ROSENBLUM BAND
15           TÉA NOELLE
22           GRAVEL & GRACE
29           JOE BARRETTA
AUGUST
5             CHAD VAN RYS
12           LISETTE & THE LOUDMOUTHS
19           HORATIO & JAKE
26           PATTY CASTILLO-DAVIS
SEPTEMBER
2             BEGG
9             CANDICE LAMB
16           NATHAN IGNACIO
* Feel free to donate to the artists at their Venmo or PayPal accounts!
---
Music in the Plaza 2022
Come enjoy live, outdoor musical entertainment every Friday night downtown through October 7.
Concerts at 10th Street Plaza range from blues to cover bands to Joe Barretta jazz band. Music starts at 7pm. Come early for a good seat!
July 8 | July 15 | July 22 | July 29
August 5 – First Friday | August 12 | August 19 | August 26
September 2 – First Friday & Labor Day Weekend | September 9 | September 16 | September 23 | September 30
October 7 – First Friday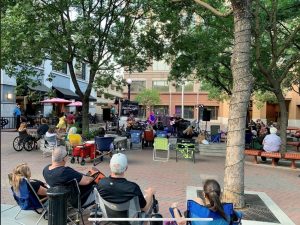 POSTER: SHOW DATES with ARTISTS/BANDS
---
---
Art Walk 3rd Thursday each Month

2022 Art Walks:
July 21 | August 18 | September 15 | October 20 | November 17 | December 15
The Downtown Modesto Art Walk is a year-round event held on the third Thursday of each month from 5pm-8pm. The Art Walk is a FREE casual event featuring a diverse range of artwork. You will have the opportunity to listen to local musicians, enjoy food and beverage from one of your favorite downtown restaurants as well as viewing artwork for purchase at local art galleries and shops. Participating businesses/galleries will be marked with yellow balloons outside (see most recent printable map).
---
First Fridays are Back

After the last couple years, this has GOT to be the best way to rediscover Downtown Modesto. Connect with the coolest businesses, chefs and artists.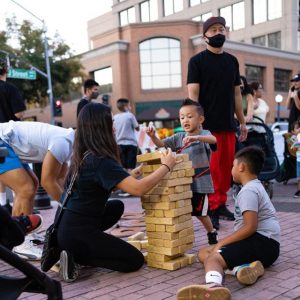 First Fridays is like an umbrella for any community members who wish to activate space with positivity, creativity and culture. From pop-up dance workshops to international graffiti art mural festivals, goodness is found at First Fridays in downtown.
2022 First Fridays:    Aug 5 | Sept 2 | Oct 7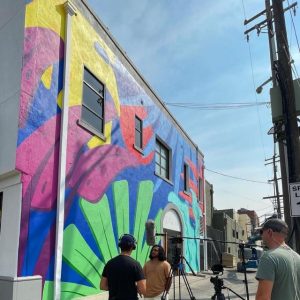 Interested in becoming a vendor?  Please allow one week for your application to be reviewed. Vendor Information
There's so much to do in downtown Modesto, whether you're looking for a great meal, a movie, a boutique, or a fun place to have a drink with friends. Click here for the downtown directory.
---
Downtown Dining Information
For your convenience, we are providing the following link with dining options for downtown Modesto eateries.
Please be sure to call first since posted information is subject to change.
Please remember that you may also support these local businesses by using your RAD Card, purchasing a gift card and/or gift certificate.