Celtic Concert to Benefit Mistlin Gallery
The Mistlin Gallery Cabaret series is back with local Celtic music favorite Golden Bough. Enjoy an evening of music, champagne and desserts surrounded by the beautiful art on display at the Mistlin Gallery downtown. Additional Irish beverages will be available for purchase. Proceeds benefit the Central California Arts Association and their commitment to enrich the local arts community. Space is very limited.
Tickets: $50 per person. Online at CCAAGallery.org or in person at 1015 J Street, Downtown Modesto
Doors Open at 6:30 pm
Concert Begins at 7:30 pm
Art Walk: 3rd Thursday of the Month

2022 Art Walks:
May 19 | June 16 | July 21 | August 18 | September 15 | October 20 | November 17 | December 15
The Downtown Modesto Art Walk is a year-round event held on the third Thursday of each month from 5pm-8pm. The Art Walk is a FREE casual event featuring a diverse range of artwork. You will have the opportunity to listen to local musicians, enjoy food and beverage from one of your favorite downtown restaurants as well as viewing artwork for purchase at local art galleries and shops. Participating businesses/galleries will be marked with yellow balloons outside. See map or Visit the Site.
---
First Fridays are Back!

After the last couple years, this has GOT to be the best way to rediscover Downtown Modesto. Connect with the coolest businesses, chefs and artists.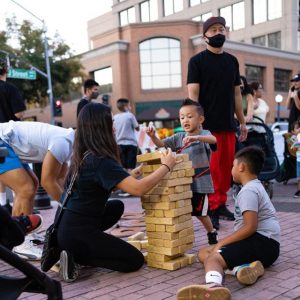 First Fridays is like an umbrella for any community members who wish to activate space with positivity, creativity and culture. From pop-up dance workshops to international graffiti art mural festivals, goodness is found at First Fridays in downtown.
Join us:    June 3 | July 1 | Aug 5 | Sept 2 | Oct 7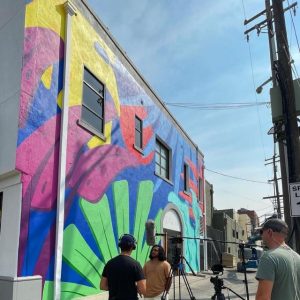 Interested in becoming a vendor? Please allow one week for your application to be reviewed. Vendor Information
---
NEW Downtown Art Installation
If you happen upon the grounds of the Gallo Center for the Arts, you'll notice something new; an oversized flowerpot with giant, bright orange primrose petals that allow daylight to pierce through them, casting a warm glow on the ground underneath. Take a moment to sit on the bench below to reflect and notice the flower roots surrounding you.
Head down to 1000 I Street for this magical experience, all thanks to artist Richard Herzog of Athens, Georgia.
The art piece is entitled "Primrose Planter" and was installed in December 2021. This project was gifted to the community from the Modesto Downtown Improvement District and the Downtown Modesto Partnership.
The artist described his creation: "I wanted to bring a little natural beauty into the urban landscape. While it would be a bit impractical to import a wild meadow or arboretum, an enlarged houseplant was not. The Primrose Planter is a potted plant on growing on the streets of Modesto. It draws inspiration from a number of different plant, orchids and primroses."
---
Modesto Symphony Orchestra Concerts
Each season, the MSO performs five classics concerts and three pops concerts at downtown's Gallo Center for the Arts and produces two community favorites: Picnic at the Pops at the E. & J. Gallo Winery and the Holiday Candlelight Concert at St. Stanislaus Catholic Church. Through its education and outreach programs, the MSO is able to reach over 15,000 students each year by working closely with local schools and providing free or low-cost opportunities to experience classical music.
For tickets: Modesto Symphony Orchestra
Graffiti Parade to Cruise Downtown June 10th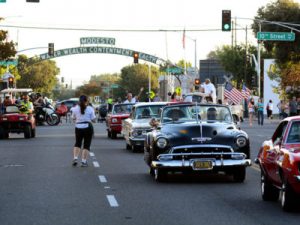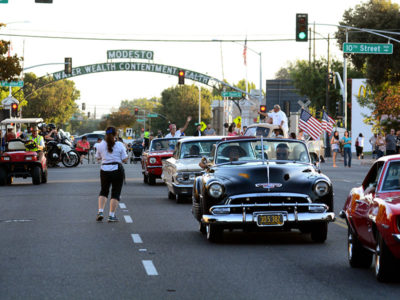 Modesto is the birthplace of George Lucas and the inspiration for his popular classic film "American Graffiti" released in 1962. Each summer, Modesto celebrates its historic car culture with car shows, concerts, street fairs, and a parade cruise that brings thousands to Modesto.
Beginning Friday, June 10th, the annual American Graffiti Festival will kick-off with its parade starting at 6:00pm. Parade entrants will start at McHenry and Orangeburg Avenues, then head to downtown.
The American Graffiti Festival and Car Show will be held at Modesto Junior College West Campus on Saturday, June 11 from 7am to Noon and Sunday, June 12 from 7:00am to 11am.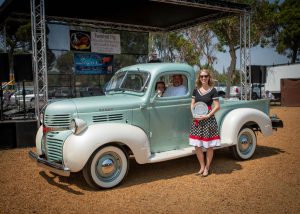 The above events are hosted by Kiwanis Club of North Modesto. ALL PROCEEDS from this event go to local nonprofits. Visit the Site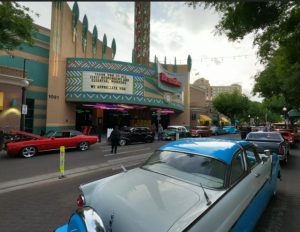 ---
Downtown Dining Information
For your convenience, we are providing the following link with dining options for downtown Modesto eateries.
Please be sure to call first since posted information is subject to change.
Please remember that you may also support these local businesses by using your RAD Card, purchasing a gift card and/or gift certificate.
---