Modesto Downtown Sampler 17
The Downtown Sampler is back!  Don't miss Downtown Sampler 17 – an evening of food, drinks and incredible people.  Downtown Sampler 2017 is set for Tuesday, October 3rd.  You'll sample food from over 25 downtown area restaurants, plus enjoy local bands and strolling musicians, and free shuttle service within the downtown area.
Come experience the best Downtown Modesto has to offer – don't miss Downtown Sampler 2017, Tuesday evening, October 3rd from 5:30 p.m. to 9:30 p.m.  Tickets are $20 per person – and only a limited amount are available.  Get yours at the Downtown Improvement District's Office located at 1022 J Street, from 10:00 a.m. to 4:00 p.m. or by appointment, Boyett Cruisers or online at ModestoSampler.com.
This event is brought to you by the Downtown Improvement District, ModestoView, Chris Ricci Presents, Downtown Modesto Partnership, and the Modesto Area Music Awards, as well as KRVR The River, and KVIN The Vine.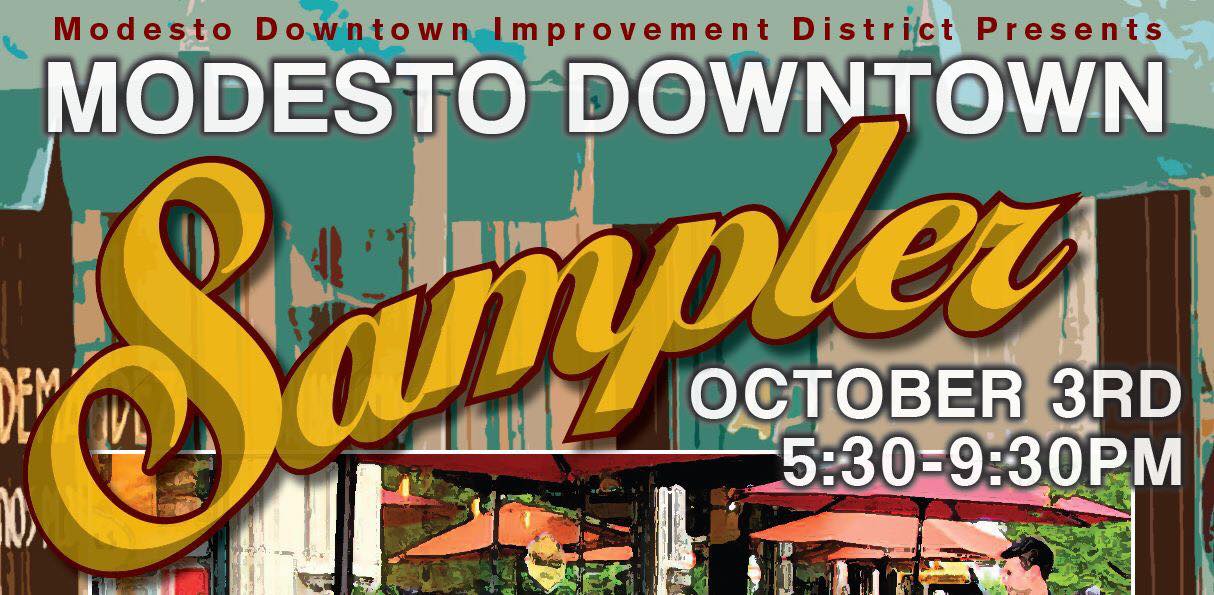 ---
1st Friday Street Faire
Starting August 4th
Craft vendors, food carts, Music in the Plaza from 7 p.m. to 9 p.m., games and more! On the 1st Friday of each month, head to downtown Modesto for the 1st Friday Street Faire! Each Friday promises to be a night filled with culture, cuisine, and community!
---
Summer 2017 Music in the Plaza
Come enjoy live music every Friday night in downtown's 10th Street Plaza from 7-9PM!