"Now and Then" at Prospect Theatre 
Now and Then
Sean Grennan
Sometimes what happens after last call just might change your life. "Now and Then" is a heartfelt romantic comedy about the costs of the choices we make, and the people who make them with us. This play includes adult language 
November 17, 18, 19, 20, 25, 26, 27
Community Discussion Dates:
Talk-back with Cast and Director – Sunday, 11/27 after performance
Tickets information and purchase available here.
Artist Lab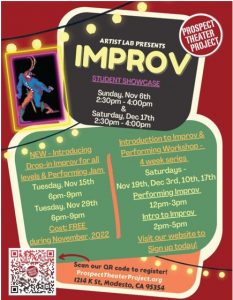 Upcoming Shows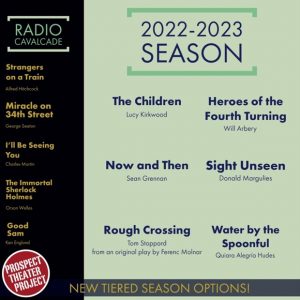 Additionally, PTP has a four-show radio play season entitled "Radio Cavalcade". Great volunteer opportunities are also available. For play descriptions, dates and ticket information, click here.
For more info please contact the box office at info@prospecttheaterproject.org
Prospect Theater Project
1214 K Street, Modesto, CA 95354
---
Holiday Performances at Gallo Center
The 15th ANNIVERSARY SEASON includes Broadway national tours, comedy, musical and dance performances, and much more.
Many outstanding holiday performances are in store, from a Merry-Achi Christmas to the Vienna Boys Choir to the Nutcracker and more.
Browse through their digital season brochure to see all of the performance options here.
For a Calendar of Events and ticket information visit.
---
Modesto Symphony Orchestra Concerts
Holiday Pops! | December 2 & 3 | Gallo Center for the Arts
Holiday Candlelight Concert | December 20 | St. Stanislaus Catholic Church
Each season, the MSO performs five classics concerts and three pops concerts at downtown's Gallo Center for the Arts and produces two community favorites: Picnic at the Pops at the E. & J. Gallo Winery and the Holiday Candlelight Concert at St. Stanislaus Catholic Church. Through its education and outreach programs, the MSO is able to reach over 15,000 students each year by working closely with local schools and providing free or low-cost opportunities to experience classical music.
For tickets: Modesto Symphony Orchestra
---
State Theatre Holiday Lineup
The beautiful, historic State Theatre offers movies, live performances and events throughout the year. They have a great lineup of holiday entertainment from films like "It's a Wonderful Life" and "Elf" to live shows including "The Spirit of Christmas" and "The Ill List Petry Slam Invitational".
Downtown Art Installation
If you happen upon the grounds of the Gallo Center for the Arts, you'll notice something new; an oversized flowerpot with giant, bright orange primrose petals that allow daylight to pierce through them, casting a warm glow on the ground underneath. Take a moment to sit on the bench below to reflect and notice the flower roots surrounding you.
Head down to 1000 I Street for this magical experience, all thanks to artist Richard Herzog of Athens, Georgia.
The art piece is entitled "Primrose Planter" and was installed in December 2021. This project was gifted to the community from the Modesto Downtown Improvement District and the Downtown Modesto Partnership.
The artist described his creation: "I wanted to bring a little natural beauty into the urban landscape. While it would be a bit impractical to import a wild meadow or arboretum, an enlarged houseplant was not. The Primrose Planter is a potted plant on growing on the streets of Modesto. It draws inspiration from a number of different plant, orchids and primroses."
---
Downtown Dining Information
For your convenience, we are providing the following link with dining options for downtown Modesto eateries.
Please be sure to call first since posted information is subject to change.
Please remember that you may also support these local businesses by using your RAD Card, purchasing a gift card and/or gift certificate.
---